VERTICAL INTEGRATION OF THE SUPPLY CHAIN
Las reservas mineras de MSR están ubicadas en los principales salares de la región de Los Andes en las provincias de Catamarca, Salta y Jujuy en la República Argentina. Los depósitos salinos, con concentraciones significativas de boratos como ulexita y tincal, son propiedad legal del Grupo MSR. La principal fuente de explotación y reserva de la empresa se encuentra en el Salar del Hombre Muerto, Catamarca a una altitud de 4.100 msnm. Se explota a razón de 60.000 toneladas por año y cuenta con reservas comprobadas por más de 2.000.000 de toneladas y reservas potenciales por más de 6.000.000 de toneladas.
Todas las propiedades de MSR en los salares cuentan además con sales de litio y potasio. Por este motivo, MSR creó un nuevo proyecto para el desarrollo y la explotación de estos minerales. Virgen del Valle Litio es un proyecto sustentable creado por minera Santa Rita S.R.L. de primer nivel y con una ubicación estratégica. El proyecto se centra en la extracción, producción y comercialización de litio y productos refinados.

One of the most important operating mines is "Patito" mine in Salar Centenario, Salta. It is famous for the workers' devotion to Salta's patron saints: el Señor y la Virgen del Milagro.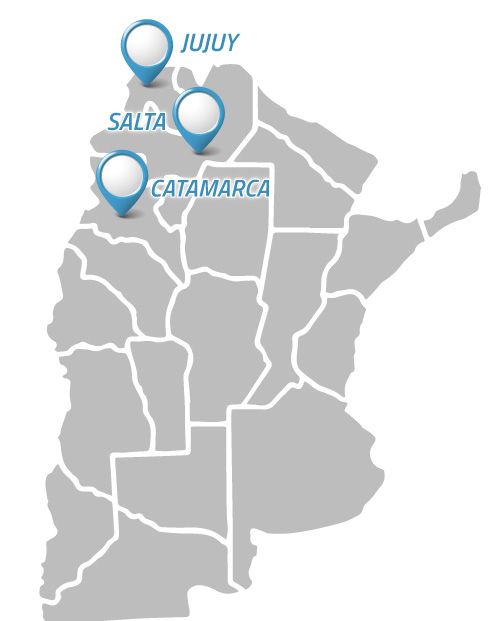 VERTICAL INTEGRATION OF THE SUPPLY CHAIN
MSR's modern processing plant is located in Campo Quijano, 30 kilometers East from Salta city, Salta, Argentina. The facilities are over 200,000 m2, with a covered surface of 14,600 m2. The company produces over 50,000 tons of derivative boron products per year, and it plans to reach 75,000 tons per year with the incorporation of new equipment and more technology investments.
In addition to its main production line dedicated to the production of boric acid, the plant has the latest production lines for the production of boron derivatives together with a modern spray dryer plant, two lines of flash dryers, and two others to produce granular products – one recently inaugurated (2016).